As the saying goes, less is more—and nowhere is this ideology more relevant than with email marketing. As subscribers are becoming more sophisticated and expecting personalized brand experiences, marketers need to tailor email frequency based on individual engagement and preferences.
While most marketers do understand the importance of not over-emailing subscribers, many still stick with this outdated practice. However, receiving too many emails from a brand is one of the biggest drivers of subscriber dissatisfaction, as highlighted by a recent survey from Yes Lifecycle.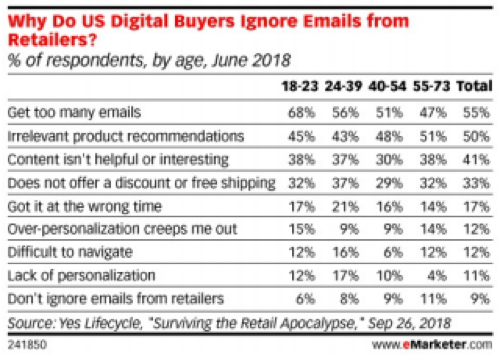 The rest of this post can be viewed on Target Marketing.
About Alexandra Braunstein
Alexandra has been helping world class brands grow and optimize their email marketing strategies and initiatives for over a decade. As an Email Strategist for Return Path, Alexandra uses her passion for analytical and creative thinking to help marketers refine their email programs, resulting in more emails getting delivered to the inbox, improved subscriber engagement, and increased ROI.