The online gaming industry has grown at an exponential rate and will continue to do so, surging by nearly 30% over the next three years to more than $39 billion.
But with growing profits come growing security risks. While many online gaming sites operate legally, there are many more openly fraudulent operations that use spam and phishing techniques to attract unsuspecting players. It is estimated that for every licensed online gaming site, there could be up to nine unlicensed ones.
Gaming is a key target industry for cybercriminals, particularly when it comes to email fraud, and companies aren't doing nearly enough to protect their customers.
Return Path looked at 284 of the world's top online gaming companies and found only 15—a mere 5%—were protecting their customers and their brand from outbound email attacks such as phishing and spoofing.
With 97% of people unable to identify a sophisticated phishing message, companies can prevent fraudulent emails from ever reaching their customer's inbox in the first place. The problem is, they're not.
In the Online Gaming Guide to Email Fraud, we investigate online gaming's top security challenges, why outbound email is a threat vector, and share best practices for securing outbound email and protecting customers.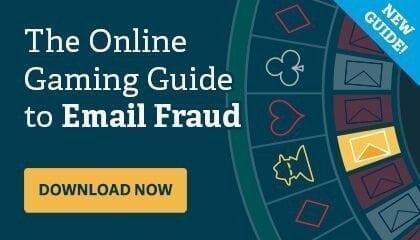 About Estelle Derouet
Estelle Derouet is Vice President of Marketing, Email Fraud Protection at Return Path. In her role, Estelle leads a fabulously talented team of experienced B2B marketers, tasked with driving awareness and generating demand. Prior to joining Return Path in 2010, Estelle led the EMEA and APAC marketing function at enterprise mobility provider iPass for eight years. Follow her on Twitter @ederouet.