eMarketer, a leader in digital research, recently announced the top 10 US retail companies based on their percentage of total retail sales. We were honored to discover that 7 out of the 10 companies listed turn to us at Return Path to help optimize their email programs.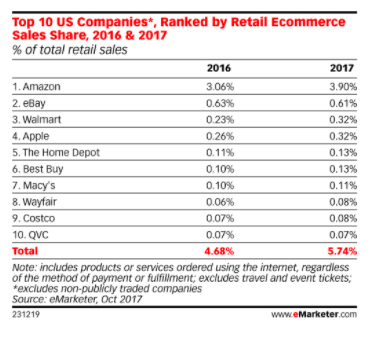 It's no secret that email is the most effective marketing channel available to retailers. On one hand, it is consumers' preferred marketing channel to interact with the brands they love, and at the same time, it produces the highest ROI of any channel (users report 222 percent on average!).
With insight into 70 percent of these brands' extensive email efforts, we are proud of their success and look forward to seeing them top this list again in the years to come.
Oh, and it doesn't stop at retail! Customers from all industries are using email to grow their business. Check out some more of our email heroes and their success stories.
About Lauren Harris
Lauren Harris is Return Path's Customer Marketing Manager for Email Optimization based in our California office. She enjoys working closely with Return Path customers first as an Account Coordinator, then Technical Account Manager and now from the marketing side. Outside of work, Lauren can be found snowboarding in the winter, taking beach trips in the summer, and cheering on the 49ers. Connect with her on LinkedIn.