If you've spent any time on the internet, you've almost certainly been exposed to direct-to-consumer brands. Glossier. Casper. The Bouqs. Brooklinen. Brandless. Direct-to-consumer brands are reshaping marketing—and they're not just using Instagram ads to win your business. They're leveraging email to gain a following, and as my bank account can attest, it's working.
Shoppers are embracing direct-to-consumer brands in ever increasing numbers, and I would argue that it's not just about the quality of the products. Though that's certainly important, I propose that it's marketing—and more specifically, email—that's leading the way.
So aside from a well-executed aesthetic, what do these brands' email programs have in common? I have a few ideas:
Incentivized Referral Program
Instead of Black Friday sales and assorted promotions, direct-to-consumer brands rely on referrals. Word of mouth is big business, and referral programs give customers a reason to share their product with friends. From Rothy's simple but effective $20 off a future purchase (below) to Brandless's $6 credit, referrals are a big part of the direct-to-consumer business model.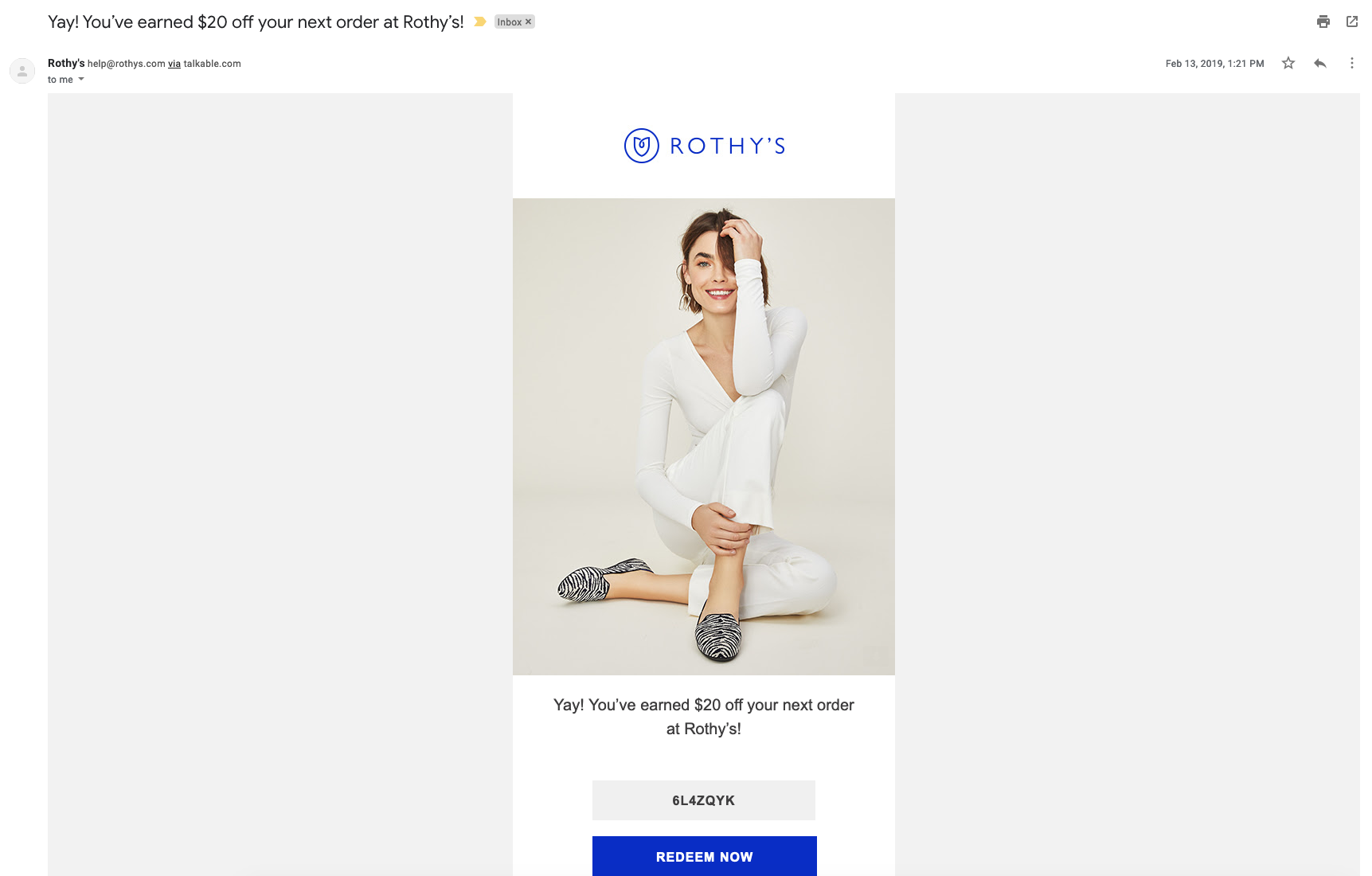 How can you use this idea? Think about what a customer currently gets for sharing your product—and then see if you can add some new incentive for them. As far as communicating your new referral incentives, the email series itself can be basic—but be sure to think about timing. Don't make customers wait a week for their code; send it as soon as possible.
And remember, you don't have to go it alone. Companies like Talkable manage referral programs and can show you the ropes.
Storytelling Approach
Email isn't just used to notify subscribers about sales or discounts; it can also be leveraged to create a connection with your audience beyond your products. This works especially well with subjects that are related to the product you're selling. For example, Knix, a maker of bras and underwear, started a "Can we talk about…" series. The example below delves into being a new mom and breastfeeding.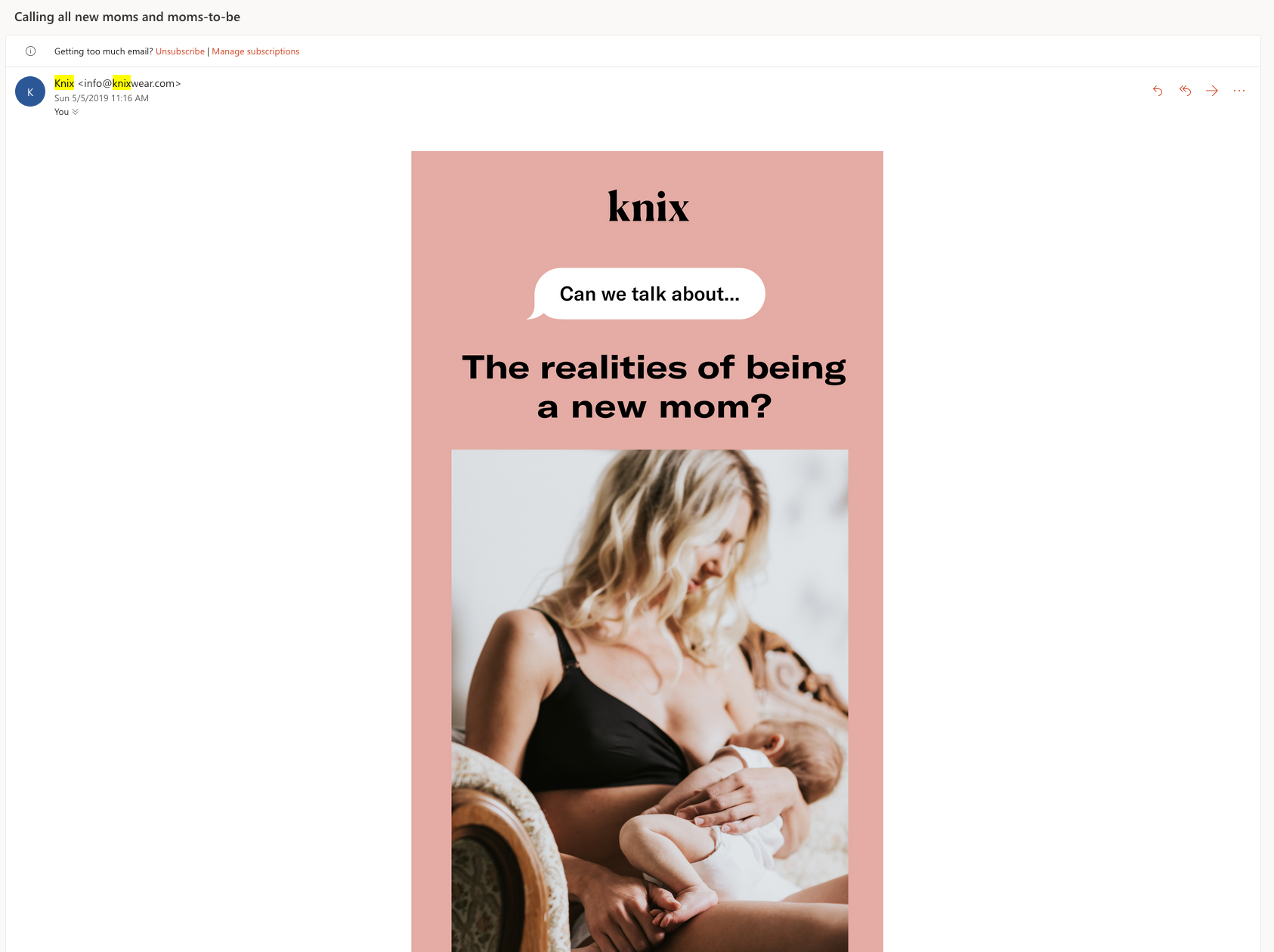 Brandless also uses this tactic with their Good News newsletter, devoted not to their products, but to positive happenings submitted by their subscribers and users of their products. In many cases, there isn't a direct connection between the good news and their brand—an intentional choice.
How can you use this idea? Think about your subscriber personas and brainstorm what other content might pair well for your brand. But remember – your goal is engagement. If subscribers don't find your storytelling to be compelling, your brand will receive lower clicks and your deliverability could suffer.
Partnerships with Other Direct-to-Consumer Brands
Partnerships between brands are big business. Platforms like Wove can assist brands with finding lookalike audiences within Facebook and Instagram in order to best target their products. Companies don't get access to each other's first-party customer data, and partnering together can help both brands build upon their existing customer base. But brands like Classpass, Everlane, and Winc have leveraged email to promote other brands in their email marketing—from small mentions to third-party email sends.
So, are you ready to email like a direct-to-consumer brand? Start small, make incremental changes, and measure your results. Here are some more articles to help in your quest:
DTC Marketing Is Disruptive and Popular, but It Isn't Easy via Wall Street Journal
Why You're Buying Products From Companies You've Never Heard Of via Wall Street Journal
Personalize Email Marketing to Reach Millennials via MessageGears
The Return of Retail and 5 Other Direct-to-Consumer Trends to Watch in 2019 via AdWeek
Prowess in Storytelling Is What Makes a Challenger Brand, and More Insights From New Adweek Survey via AdWeek
Brand Playbook: Learn the ABCs of D-to-C via AdAge
About Brittany Luebke
Brittany is a Digital Marketing Coordinator at Return Path. You can find her writing through our corporate social media channels - Twitter, LinkedIn, and Facebook. Outside of work, you can find Brittany spending time with her family, walking her dog, or cooking up something in the kitchen a la Martha Stewart. Connect with her on LinkedIn.