At Return Path, we've been analyzing data like open rates and read rates for the presidential candidates, but we've also been comparing the email strategies employed. Email strategists might lay out their game plan months in advance, but when something happens on the campaign trail, you have to change things up.
The best case we've seen of campaign creation recently is Clinton's "woman's card" fundraising effort. When Donald Trump said that Hillary Clinton was playing the "woman's card," her email strategists ran with the idea and used it to her advantage. The comments were made on a Tuesday, and by Friday, the following email was delivered to our inbox: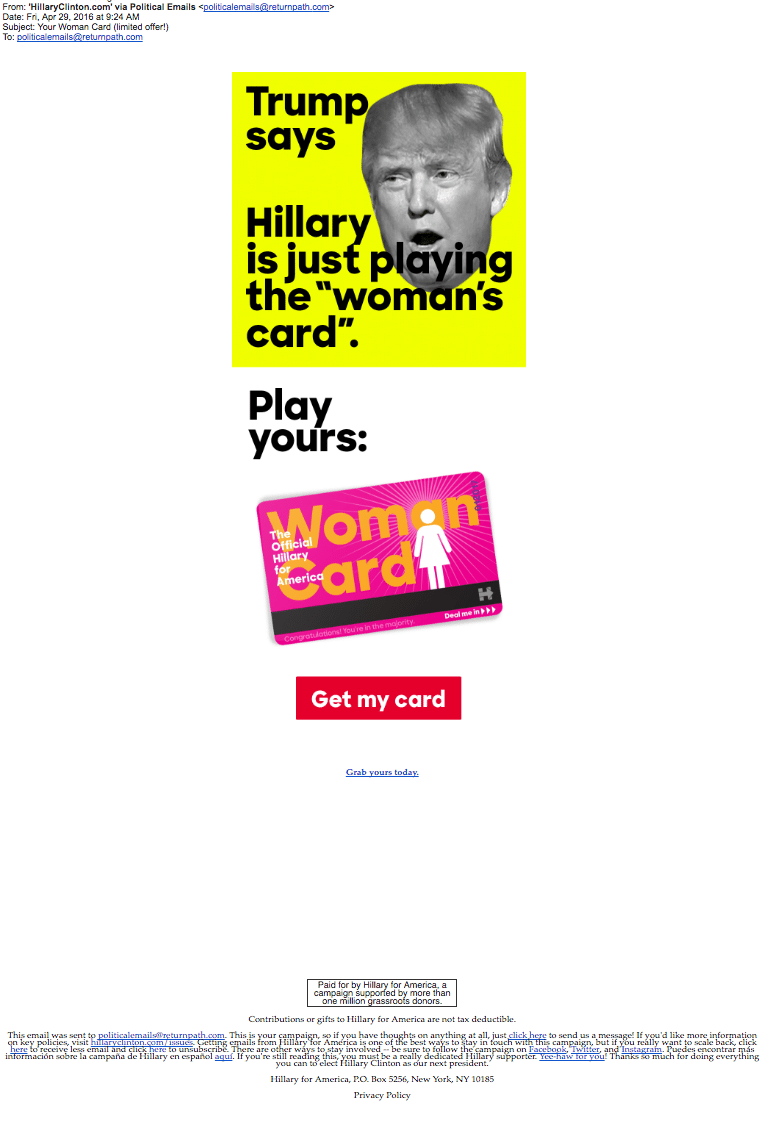 In the span of a few days, a designer created an actual Woman Card—available to those that donated $1 or more to the campaign. The style of the email was a departure from previous communications, as were the colors. The normal red, light blue, and dark blue were replaced by yellow and pink (though the red call to action button stayed). And the biggest change? Trump's mouth moves—it's a gif! Though the fonts are one of the same ones that the campaign uses regularly, the email looks quite different and more modern.
Later that same Friday, we received a hybrid email—the same format, style, and fonts that the normal fundraising emails normally had, but this one included an image of the Woman Card.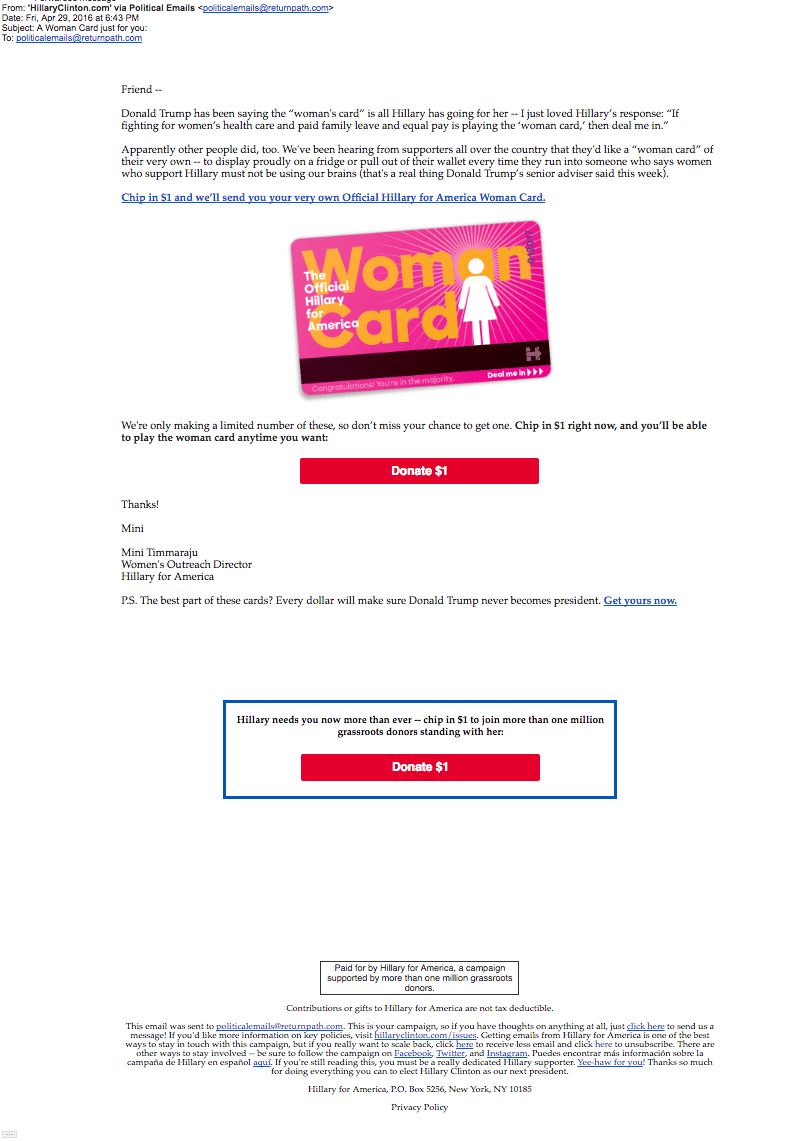 The next day, Saturday, we received another email related to the Woman Card campaign. This one looked markedly different than previous emails. Pink and yellow (and orange shades) were used graphically along with an image of the actual Woman Card. The same red call to action button was present but overall, it feels very different.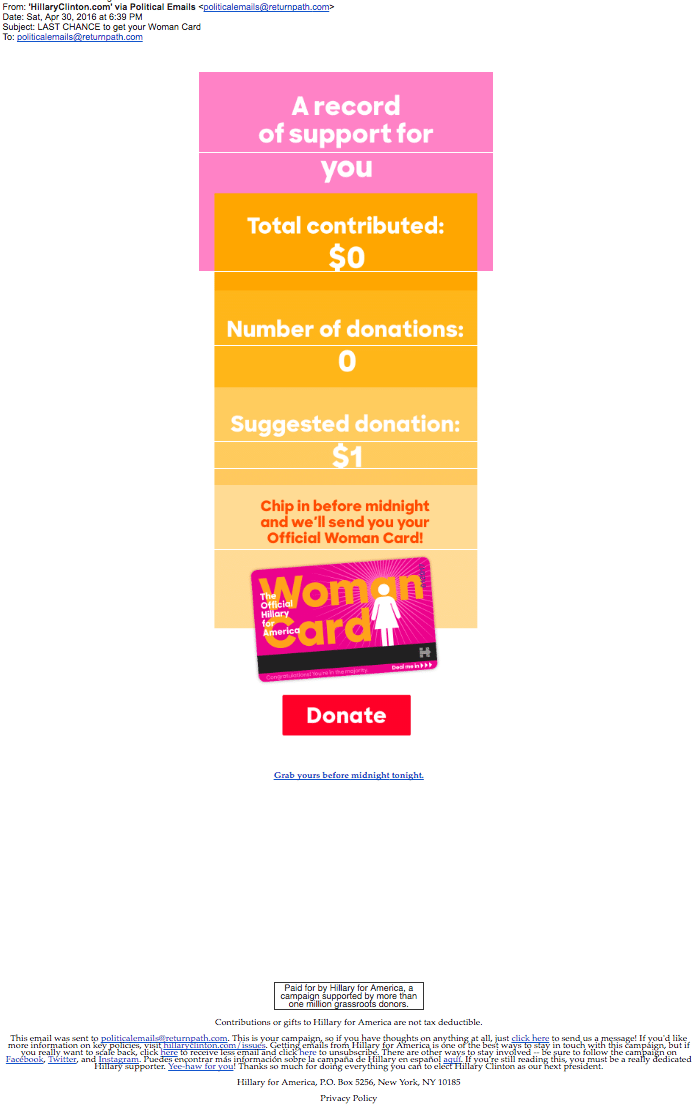 By midnight on Saturday, the campaign was over. Though you can still buy the Woman Card on the website (and it will now cost you $5 instead of $1), the email efforts surrounding it wrapped up. In total, we received six emails focused on this particular campaign.
The outcome? The New York Times reports that the initiative raised $2.4 million through the fundraising emails and related products (a deck of cards and t-shirts). The campaign was quick but effective for the Clinton camp.
Takeaways
There are a few things we learned from this example:
Pay attention to your competitors. Subscribe to their emails, use Google Alerts for news hits, and listen to what they're saying in the media. You should be as familiar with their strategies as your own.

Plan, but remain flexible. When something happens, you need to adjust. This could be as easy as having a flexible e-newsletter layout or having an approval process for your emails that can work quickly when necessary.

Don't shy away from the "off-brand."

The Woman Card campaign proves that moving away from the email campaign's traditional branding can work. Keep your mind open to considering ideas that might not perfectly align with your brand, but that will resonate with your audience.
About Brittany Luebke
Brittany is a Digital Marketing Coordinator at Return Path. You can find her writing through our corporate social media channels - Twitter, LinkedIn, and Facebook. Outside of work, you can find Brittany spending time with her family, walking her dog, or cooking up something in the kitchen a la Martha Stewart. Connect with her on LinkedIn.