The benefit of email feedback loops for senders and email users is fairly well understood. Feedback Loops help people unsubscribe from unwanted email and help senders maintain lower complaint rates and a higher sender reputation. Less known are the benefits of feedback loops from the Mailbox Provider's perspective.
Why do mailbox providers provide email feedback loops?
Mailbox providers deploy email feedback loops in order to reduce the spam received by their end users. Feedback loops send a report back to the original sender when a user declares an email as spam (i.e. hits the 'This is Spam' button). By sending back this signal, the sender is supposed to stop sending spam to that user:
For commercial senders, this signal informs them which addresses should be removed from their list. They can either personally remove these addresses themselves if they manage their own sending infrastructure or delegate this to their email service provider (ESP) if they use one (which is usually the case).
For ISPs, the process is quite different. Feedback loop complaints alert ISPs about spam leaving their network, which is obviously pretty bad. Thanks to feedback loop data, they can identify the source, the nature, and the volume of spam. With this, they can track back to the root cause of the incident and apply appropriate anti-abuse processes to fix the problem and stop the spam.
If you are interested to know more about how to use Feedback Loops, I recommend the reading of these posts:
The impact of feedback loops
Return Path recently helped launch a new public email feedback loop for a French mailbox provider. Now that a few months have passed since its launch, we took a look at the data to study the impact.
The graph below shows the rapidly growing number of IP address from senders and ESPs subscribing to the feedback loop: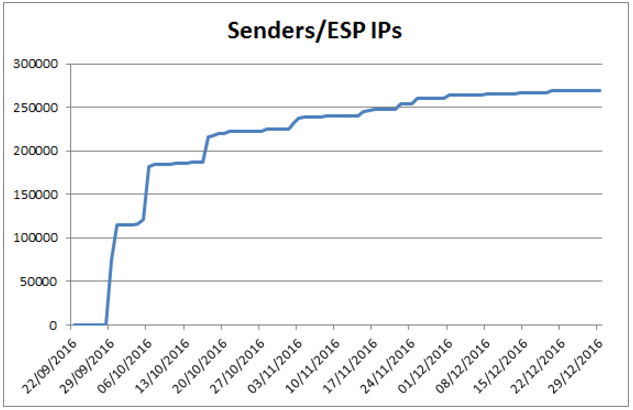 After few weeks the feedback loop counted about 270k IP addresses from commercial senders.
Now let's have a look at the spam reports: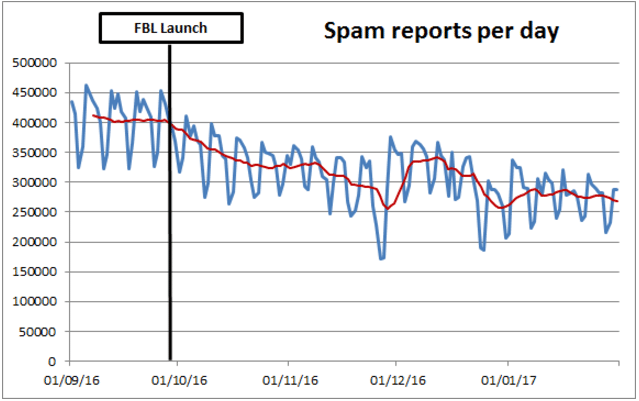 We clearly see that—just after the release of the feedback loop—the amount of email reported as spam decreased continuously until December. December is a unique month in the email industry as the majority of marketers send special offers for Christmas—which always triggers more spam reports than other months of the year. But just after this very busy period for inboxes, we see that spam reports stabilize. Before the feedback loop launch, users reported an average of 412k spam messages per day. Three months after the launch the average fell down to 265k messages per day—a 36 percent decrease!
Let's have a look at January statistics.
In January there was an average of:
2M IP addresses from ISPs registered

270k IP addresses from senders

An average of 280k spam reports per day

On these 280k reports, 27 percent were from a registered IP address and triggered a feedback to the sender—which represents an average of 67k feedbacks per day

Of these 67k reports, only 1k originated from an ISP while 98 percent were from commercial senders
With these numbers, I would conclude that:
The Feedback Loop has been very efficient reducing spam and will continue to do so as more senders subscribe

With fewer complaints, the user experience is improving

Emails users report as spam mainly come from commercial senders

With less spam to filter and lower mail volumes to handle the mailbox providers infrastructure's efficiency is improved
Return Path Feedback Loops
Europe
North America
Asia and Pacific
Latin America
About Mathieu Girol
Mathieu Girol is Senior Relationship Manager for Mailbox Providers at Return Path. Expert in security of Email services, he uses his experience to the benefit of projects for Return Path partners. Connect with him on LinkedIn.