Did you know that today is National Talk Like a Pirate Day, as well as International Eat an Apple Day? Yesterday was National Cheeseburger Day and tomorrow is Wife Appreciation Day. According to sites dedicated to documenting wacky and unofficial holidays (such as nationaldaycalendar.com), every day is a holiday.
Recently I've noticed a surge in brands taking advantage of these "holidays." Whether it's a promotional email offer or a social media hashtag, brands are expanding promotions beyond official calendar holidays to show customers their lighter side and present them with timely, relevant offers or content.
Red Tricycle, a popular online city guide for parents, joined this trend by sending an email on August 24 with the subject line "What's That Sound? It's Strange Music Day." The message cleverly highlighted children's activities centered around music to incorporate the Strange Music Day theme.
Subject Line: What's That Sound? It's Strange Music Day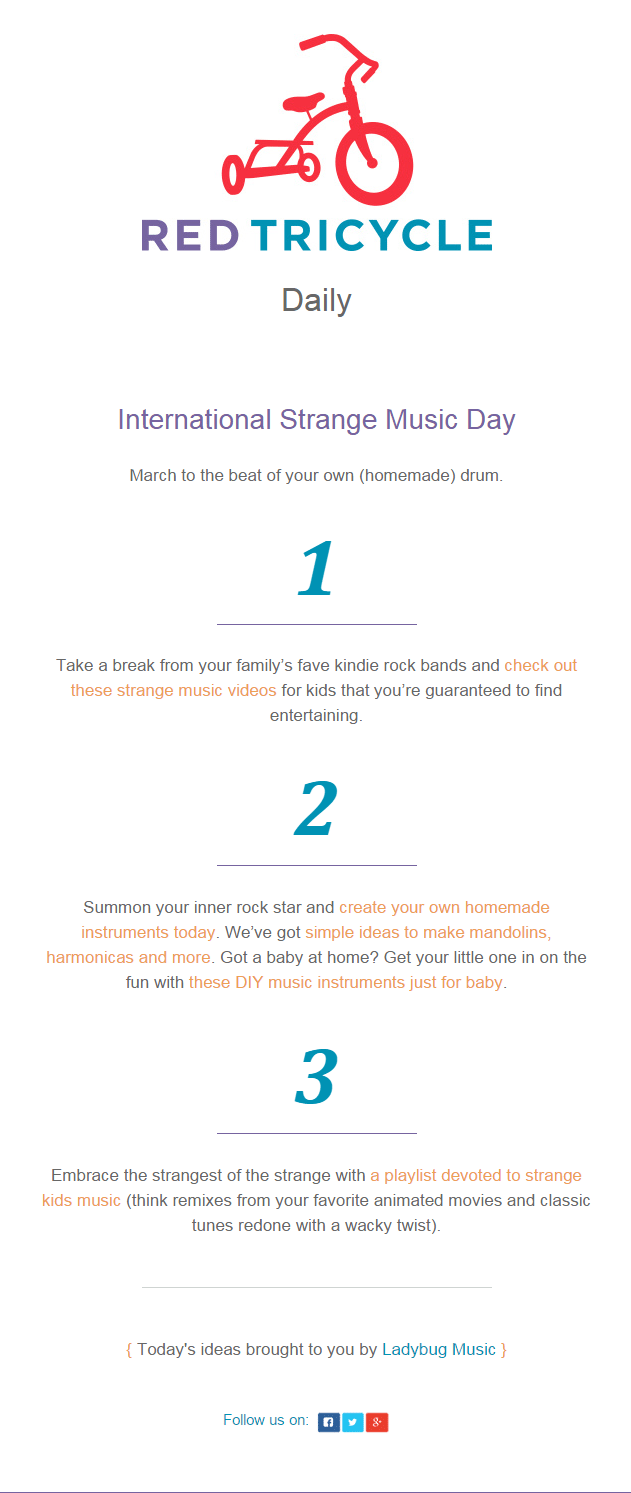 Hush Puppies promoted National Dog Day on August 26 by asking subscribers to share pictures of their dogs on social media using a special hashtag.
Subject Line: It's National Dog Day!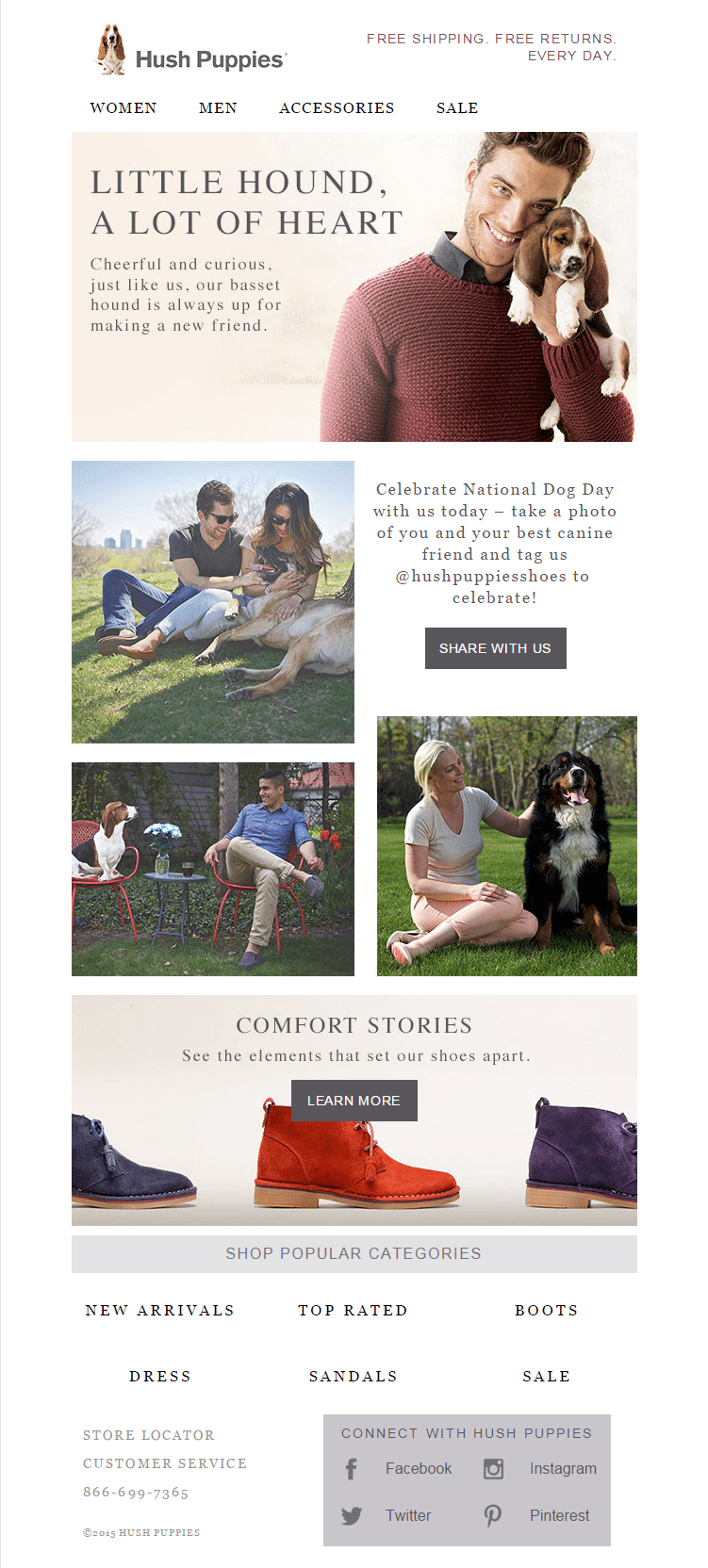 This trend is probably most popular with restaurants and food chains, as many of the "holidays" are food-related—and who doesn't love an excuse to indulge? Both Dunkin Donuts and Starbucks promoted National Iced Tea Day in early June as a way to incentivize subscribers to take a desired action. Dunkin Donuts offered email subscribers a free iced tea if they signed up for the DD Perks loyalty program while Starbucks offered their reward members extra bonus points with their purchase.
Subject Line: Celebrate National Iced Tea Day!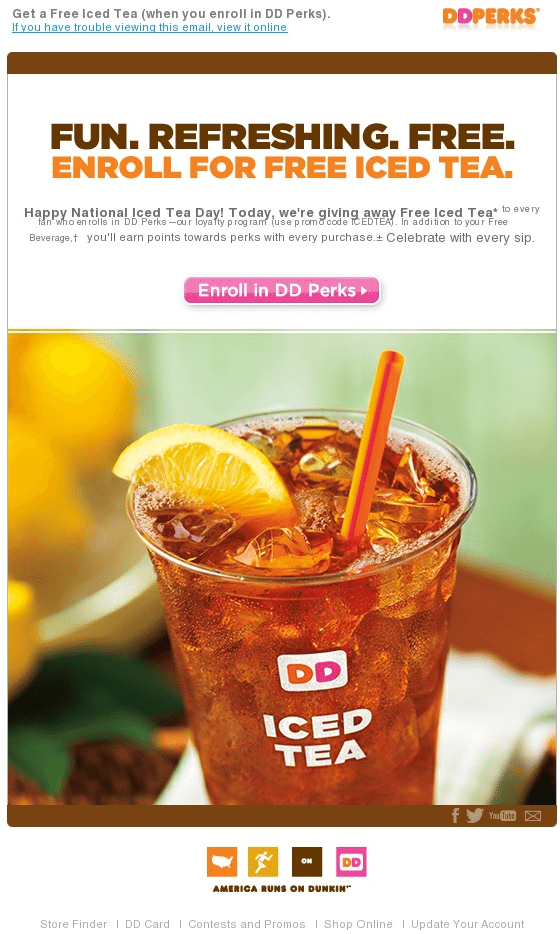 Subject Line: Celebrate Tea

Panera used Administrative Professionals' Day in April to send email subscribers a timely reminder about the upcoming day and some potential gift ideas.
Subject Line: Don't forget Administrative Professionals' Day.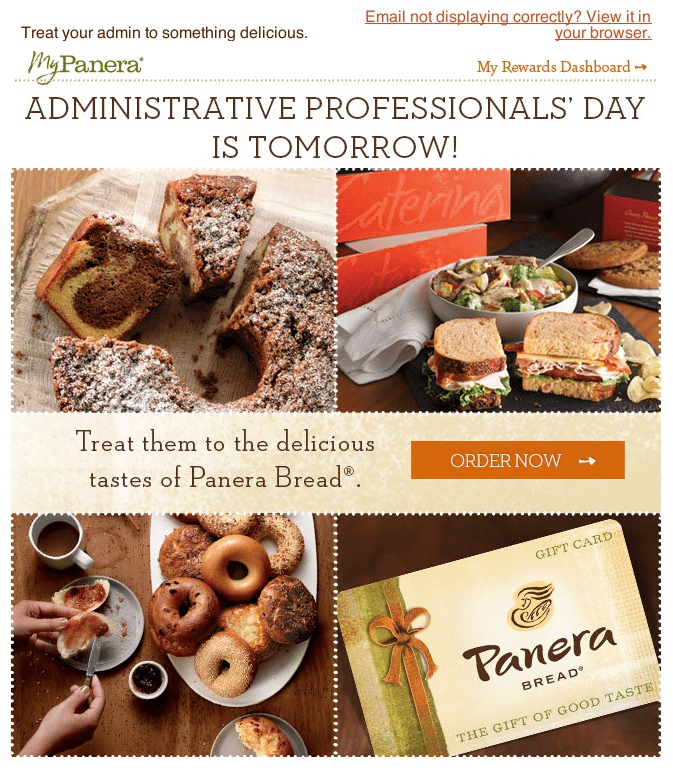 So when planning your upcoming email content strategy and calendar, consider giving this tactic a try while keeping the following in mind:
Have fun. Use this as an opportunity to show your subscribers your fun side while letting your brand's voice shine through. Be creative with how you tie your content and offer to the holiday and don't be afraid to stray from your norm.
Don't overdo it. As with most things, less is more. While this tactic can help make your email stand out from others you send, overusing this tactic could eventually lead to disengagement. Similar to what we've seen with subject line symbols, you want to be careful not to over use this approach.
Test.

Test and experiment with how you present your offer or content to see what resonates best with your specific subscribers since what works for one brand may not work for all.
And if you're looking for additional content ideas, consider incorporating interactive elements or triggered messages into your strategy to bring even more message variety to your email program.
About Alexandra Braunstein
Alexandra has been helping world class brands grow and optimize their email marketing strategies and initiatives for over a decade. As an Email Strategist for Return Path, Alexandra uses her passion for analytical and creative thinking to help marketers refine their email programs, resulting in more emails getting delivered to the inbox, improved subscriber engagement, and increased ROI.