Monarch is a leading UK independent airline group. The company includes a scheduled airline, in-house tour operator, and an award-winning engineering division. Flying from five UK bases—London Gatwick, Birmingham, Manchester, Leeds-Bradford, and Luton where it is headquartered—the airline offers seven million sector seats to leisure destinations. The tour operating division offers package holidays across the airlines scheduled network focusing on beach, city, and ski vacations.

In October 2015, The Monarch Group decided to implement the Return Path Email Fraud Protection solution to protect its customers from email fraud. The organization was looking to both protect revenue and improve its engagement with customers via the email channel. Prior to investing in Email Fraud Protection, The Monarch Group relied solely on customers to notify the company of any phishing emails abusing of its domains and/or brand.
In this three-part blog series, we will present the challenge Monarch was trying to overcome through its implementation of Return Path's Email Fraud Protection, details of the solution and implementation process, and the results realized from the partnership with Return Path. The purpose of this series is to provide readers with a framework for evaluating the potential return on investment for email fraud protection.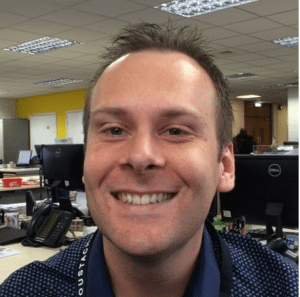 To first understand the catalyst for implementing the Return Path Email Fraud Protection solution, we conducted an interview with Liam Gibson, Direct Marketing and CRM Manager.
Nikki Cosgrove (NC): Liam, can you please tell us a little bit about your role at The Monarch Group and your email marketing program?
Liam Gibson (LG): My team is responsible for all direct marketing (DM) for the scheduled flights and very recently, the tour operation side of the business. This predominantly focuses on email marketing, but we often combine it with postal DM, too. We are tasked with maintaining and increasing revenue coupled with continuously improving our marketing initiatives by creating new and engaging content for our customers.
NC: Is email important to your marketing initiatives?
LG: Email is the backbone of our marketing efforts. Earlier this year, we launched a new email marketing strategy centered on increasing the frequency of email communication with our most engaged customers. The emails we sent were heavily content-based with embedded links to competitions, "destination of the week" articles, and social content. These emails inspire our customers to make travel bookings, which in turn generates revenue for the company.
NC: Was this campaign successful? Why or why not?
LG: The initiative has been very successful with email open rates of up to 70%. And although many of these emails do not include hard sales content, they are contributing revenue to the bottom-line of the business. Email is a trigger point for customers to click on an embedded link, visit our website, and book travel. As such, we're seeing direct email marketing getting a higher profile within the organization.
NC: So why did you decide to invest in an email fraud protection solution?
LG: The increased frequency and interactive nature of our emails expose us, and our customers, to new security risks. We want to ensure that our customers and their data are protected and that our brand remains trusted in the consumer inbox.
NC: Was there a particular event that prompted your organization to invest in a proactive email defense solution?
LG: There wasn't a particular security breach or scam that prompted us to invest. But we've all seen examples of companies being hacked, customer data being breached and that data used in phishing campaigns leveraging the domains and brand of the affected company. We did not want that to happen to us or to our customers. We see Return Path's Email Fraud Protection solution as an insurance policy, something that runs in the background to protect our domains and brand from such attacks.
"We see Return Path's Email Fraud Protection solution as an insurance policy."
NC: So why Return Path? I'm sure you were looking at other options.
LG: We've been working with Return Path for many years now and believe there's no other company that can match its expertise and access to data in the email space. We've already leveraged its range of certification and whitelisting products to optimize subscriber engagement and revenue from our email program. From this, we've had good delivery rates for the major mailbox providers (including Hotmail and Yahoo!) with no complaints from our subscriber base.
Off the back of our existing relationship, the team at Return Path showed us the Email Fraud Protection solution and the benefits DMARC could deliver to brand and customer protection. We realized this was important and didn't feel the need to evaluate alternative solutions. We've seen good results to date from Return Path and receive excellent service from our account manager and the entire team. We had no reason to look elsewhere.
"The increased frequency and interactive nature of our emails expose us, and our customers, to new security risks."
NC: What would success look like once the solution has been implemented?
LG: Success, quite simply, is hearing nothing about any form of fraud relating to domains used by the Monarch brand. This is a bold statement but this is what we should be aiming for. We want our customers to be protected; we don't want to see customer complaints or queries about phishing emails using the Monarch brand.
"Success, quite simply, is hearing nothing about any form of fraud relating to domains used by the Monarch brand."
We are regularly devising new email campaigns and we  want our customers to remain engaged with us. We want them to know that we are doing everything we can to protect their data and reduce the risk profile of email as a communication channel.
Ready to join innovators like The Monarch Group in the fight against email fraud? Download our Travel Guide to Email Fraud and learn more about how travel companies can protect their customers and brand from phishing and email fraud.
About Adenike Cosgrove
Adenike (Nikki) Cosgrove is Senior Product Marketing Manager for Return Path's Email Fraud Protection solution. Before joining Return Path, Adenike was the lead EMEA Senior Advisor to security and risk professionals at Forrester Research, helping clients with their information and cyber security strategies. Prior to her role at Forrester, she was Service Head for Canalys's Enterprise Security services, producing analytical reports on a wide range of topics within enterprise security and vendor channel management.