If you enjoy the content here on the Return Path blog, now there's a great way to get every post delivered straight to your inbox!
Just sign up at http://blog.returnpath.com/#subscribe and you'll receive a daily dose of fresh content, including email optimization, email fraud protection, research, events, industry news, and more.
Here's a sample: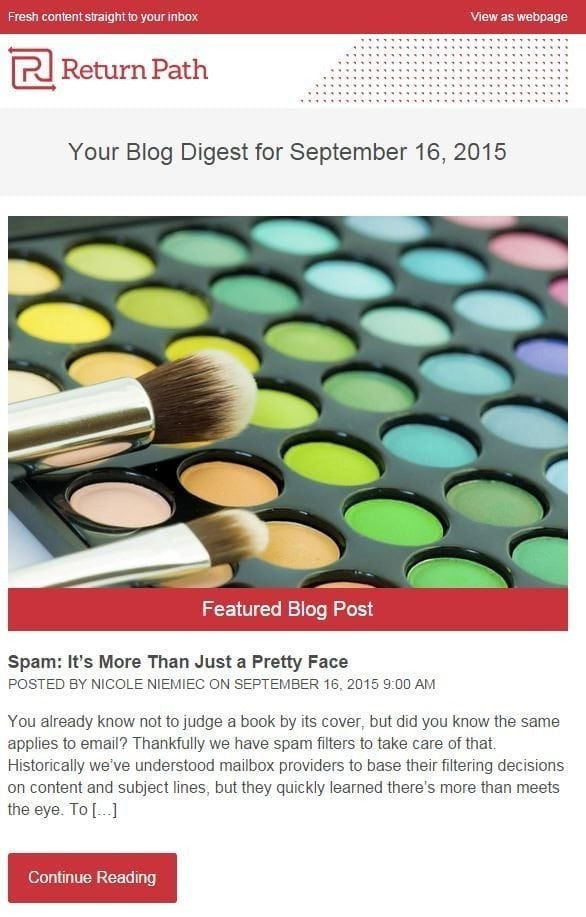 Please note: If you've been viewing our content via RSS reader, you will now need to subscribe to our new digest email. The RSS feed will be discontinued as of September 23, 2015.
About Jen Ribble
With more than 15 years of marketing and PR experience, Jen Ribble is passionate about the art of storytelling and the science of creating high quality, data-driven content. In her current role as Director of Public Relations for Return Path, Jen is responsible for elevating the company's reputation in the marketplace, crafting engaging thought leadership content, enhancing customer relationships, and driving inbound leads. In her spare time, Jen is an aspiring chef and food lover, a movie fan, and a travel junkie.