I can see it now, you're sitting in your 2018 planning meeting. Everyone is gathered to talk strategy and direction for the coming New Year. Your boss says, "Congratulations email marketing team! You've done amazing work this year, and as a result, we are going to focus more of our efforts on our email marketing channel. Why don't we roll out a brand new birthday campaign? Let's revamp our loyalty program templates! Oh, and don't forget about new offers…" and on it goes. You're thinking to yourself —where do I even start coming up with the ideas for all those new initiatives?!
Traditionally, you and other email marketers may search the internet or subscribe to dozens of email newsletters for campaign inspiration. This is a time consuming, inbox bursting, and inadequate process which doesn't provide you with information on the campaign's actual performance with real subscribers.
So now you're asking yourself, "what's an email marketer to do?!"
Enter Return Path's newest enhancement—creative and content inspiration through our Inbox Insight solution!
With our new Inbox Insight feature, Browse Campaigns, you have access to the universe's largest repository of email campaigns and senders for creative and content inspiration. Now, you can find email campaigns by industry, campaign type, and subject line faster than you can read this sentence. You can even save and download your favorite campaigns for easy reference during your design process.
And the best part? Each campaign includes metrics on how the email performed with real subscribers.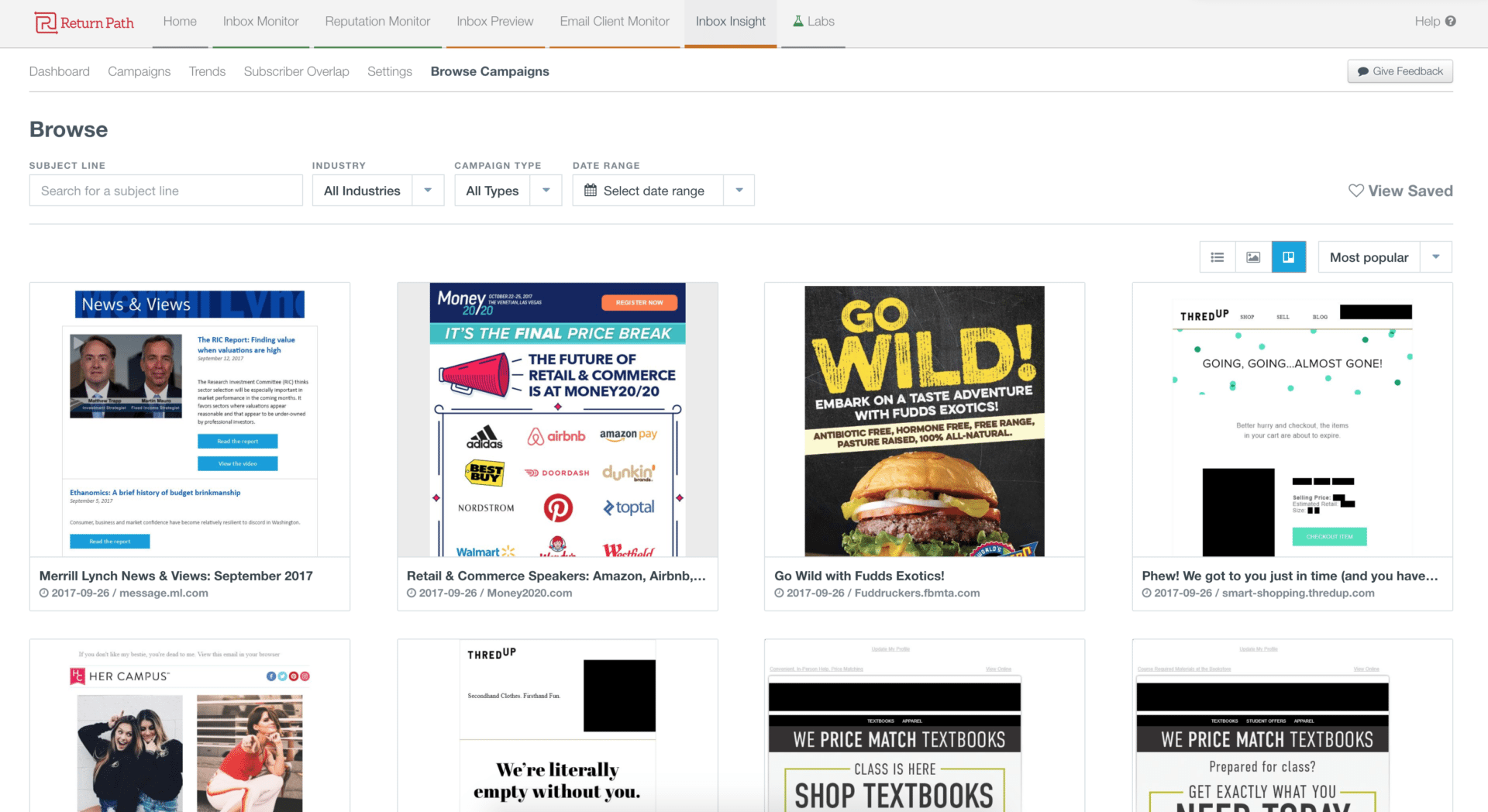 These insights help you construct the perfect email and give you the confidence to try something new to boost email program success!
See how it works in less than two minutes by viewing our Browse Campaigns video!
For our current Inbox Insight customers, this new feature has been automatically enabled for your account and you can access it via the new 'Browse Campaigns' tab within Inbox Insight right now.
If don't currently use Inbox Insight but want to learn more about our solution and the new Browse Campaigns feature, read our fact sheet for more information and Request a Demo today!
About Courtney Finger
Courtney Finger is a Product Marketing Manager at Return Path where she uses her immense knowledge of Return Path products to shape everything from their messaging, positioning, and innovation. Courtney's previous role as a Technical Account Manager gave her the skills and background to be a successful product marketer, requiring her to be an expert on Return Path's products and solutions, and to understand the customer's problems and needs. She loves working with teams across the company to bring products to market that truly enhance the lives of email marketers. In her spare time, Courtney loves to enjoy the Colorado Rocky Mountains and the incredible food and entertainment scene of downtown Denver.