As marketers, we're living in an interesting time. Each year, the challenges we face become incrementally more sophisticated and complex, and we're constantly looking for new solutions to address these issues. But in a mature industry like email marketing, the chances of finding a "magic bullet" that solves every marketing challenge are slim.
Instead, true improvement in today's world comes through subtle, incremental adjustments to the things we're already doing—rather than drastic, sweeping change. The tools we need to be successful are at our fingertips; it's simply a matter of using them in more effective, strategic ways.
Email is just as important as it's ever been—perhaps even more so. A recent eMarketer report attributes 21 percent of total revenue to email marketing—up from 17 percent just one year ago. So it's critical to optimize every aspect of your email program and maximize revenue from the email channel.
With our newest technology partnership, we're introducing a solution that can help you do just that.
Powered by technology from 8Seconds, our new Multivariate Testing solution allows you to quickly and easily test many variations of your email creative—in real time—to determine what elements resonate best with your audience. Subtle differences in creative elements like banners, buttons, and imagery can make a dramatic difference in email performance, but it's impossible to know what will spark audience engagement without thorough testing. But traditional testing methods like A/B testing can be costly, complex, and slow to deliver meaningful results.
That's where Multivariate Testing comes in. This simple to use, cloud based solution takes the guesswork and manual effort out of testing. Multivariate Testing allows you to test 12, 36, 42, or even more versions of your campaign simultaneously, and see results in real time.
Here's how it works:
Decide what elements you want to test and load the image files into the 8Seconds platform. This creates a unique piece of HTML code you insert into your HTML.

You then send the campaign as normal from your sending platform or email service provider.

The initial recipients are shown different versions of the email as they open to gather engagement data based on click-through rates.

Once there is enough data to determine a "winner," this optimized version is automatically displayed to the remaining recipients as they open.  

On average, the email containing the optimized combination of creative elements performs 200 percent better than losing combination!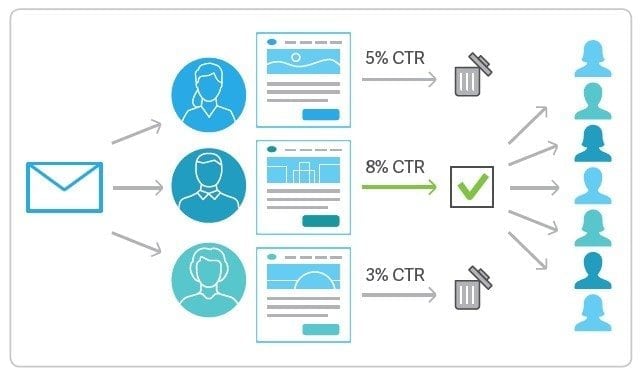 Multivariate Testing eliminates the starting and stopping of traditional A/B testing. Testing occurs quickly and efficiently, so you get your best performing emails in the hands of your subscribers with less work for you.
Images can be optimized across different segments of your list, including showing different versions based on gender and mobile vs. desktop viewing.

Any number of image-based creative elements can be tested, including header and body images, calls to action, banners, logos, buttons, and more. Insights from email tests can also be used to optimize other channels, such as websites, landing pages, banner ads, and offline communications. The solution is platform neutral, so it works seamlessly with any email service provider.
Take a look at our latest press release to read more about our partnership with 8Seconds.
To learn more about how Multivariate Testing can help your email marketing program, request a demo today!