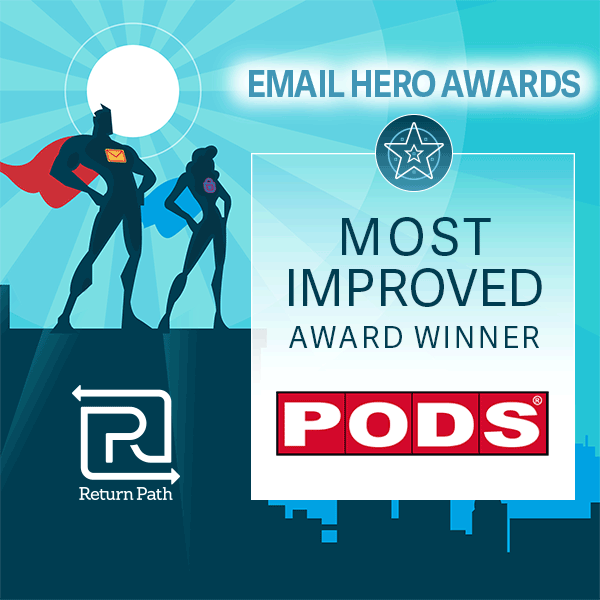 Winning the Email Hero Award for Most Improved Email Program, this week we're featuring PODS! With our only perfect score, they also took home our MVP Email Hero Award.
While most email marketers experience poor results now and again, it takes a special team to take affirmative action in the face of low inbox placement. The team at PODS was faced with an alarmingly low 60 percent inbox placement rate and was able to optimize their program to increase their deliverability to nearly perfect deliverability.
To understand what went into this award-winning campaign, we interviewed the email marketing team at PODS.
What were the goals of this particular campaign?
Improve our Abandon Cart nurture email campaign open rates.
Did you face any key challenges along the way?
Many prospects would put in fake emails to be able to see a quote online. In April, prior to our partnership with Return Path, our Inbox placement was below 60 percent with Gmail below 20 percent and nearly everyone in the Promotions Tab.
What were your campaign results?
Over the course of four months, our inbox placement went from below 60 percent overall to above 98 percent for all mailbox providers. Over the last week we averaged 99.6 percent placement.
Across all initiatives, we saw open rates improve for our abandon cart campaign from 21 percent to currently 49 percent. Lowering our unknown send rate from near one percent peaking at six percent to now below a tenth of a percent. Our open rates increased over 150 percent from 20 percent to 50 percent.
How did you achieve these results?
We worked closely with our Return Path and had weekly meetings and though we were following many best practices, with regards to list hygiene we weren't suppressing unengaged recipients. Return Path was instrumental in being able to convince leadership that this is an important thing to be doing, even though it did reduce overall value.
Return Path also allowed us to have much better insights into inbox placement and how our content was being digested. This helped us tailor our email designs to match the viewership increasing readership and improving our inbox placement, specifically with Gmail. During this time we also updated our creative to increase responsiveness and copy to be less sales related and more informational. Now our abandon cart campaign is in the primary Gmail inbox.
With the backing and ability to track we were able to greatly improve our open rates and inbox placement, because of Return Path tools and support group.
Find out the stories behind each of the award-winning email programs in the Email Hero Awards Lookbook.
About Lauren Harris
Lauren Harris is Return Path's Customer Marketing Manager for Email Optimization based in our California office. She enjoys working closely with Return Path customers first as an Account Coordinator, then Technical Account Manager and now from the marketing side. Outside of work, Lauren can be found snowboarding in the winter, taking beach trips in the summer, and cheering on the 49ers. Connect with her on LinkedIn.