Imagine you are sending out an email campaign announcing a new product. You go to check the results and see that the campaign did not perform well. You have no idea why this campaign didn't get delivered to the inbox and now you are scrambling to get a new campaign set up so you can reach your subscribers' inboxes and announce your big news! However, you still don't know what happened to the first campaign, but you know it can't happen again. What do you do? The new Return Path Deliverability Wizard will help answer those questions!
The Deliverability Wizard is a new feature in the Return Path Mission Control Dashboard that is built on machine learning and an anomaly detection model to ensure you are alerted at the first sign of a problem with any of your campaigns and/or IP addresses you are monitoring. Here is how it works; the system runs through a series of checks to find any issues that need your attention. Seed status, DKIM, SPF, and DMARC are just a sample of what the deliverability wizard will bring to your attention. If your email program fails any checks, an X will appear next to the RP system check label. The most impactful recommendation is surfaced to you first and you are able to learn more about the issue, offered possible solutions, and then guided through steps you will need to take to fix the issue. You can add open tasks to your task list as well as assign tasks to other team members to make sure the appropriate person solves the problem.
So how is this meaningful for you? Here are a couple examples of how the deliverability wizard can help your program. 
Example 1: A/B test
Let's say that Olivia is conducting an A/B test to see which content will have the highest inbox placement rate. The tests are sent to the Return Path seed list and Olivia logs into Inbox Monitor to take a look at the results. The Deliverability Wizard flags her attention that the test emails are using URL shorteners. This would impact inbox placement at all mailboxes since this considered spammy by a lot of mailbox providers. Olivia is able to take a look at recommendations on how to solve the problem and then she assigns the task to Ian to fix. Ian sees that this task has been assigned to him and starts updating the links in the creatives. Thanks to the Deliverability Wizard, they were able to identify the issue and correct it using the actionable recommendations from the Deliverability Wizard before the email out to her full list.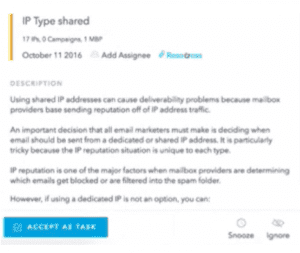 Example 2: Alerts before a holiday send
Steve is preparing to send out a marketing email for the huge black Friday sale. Before he sends the email, Steve logs into his Return Path account to make sure everything is looking good before the send. As soon as he logs in, the Deliverability Wizard alerts him that he has been added to an impactful black list. The wizard provides him with the name of the blacklist, possible reasons why the sending IP address was added to the blacklist and the link to delist him from the blacklist. Steve is quickly able to remove the IP address from the blacklist before it impacts him during the holidays.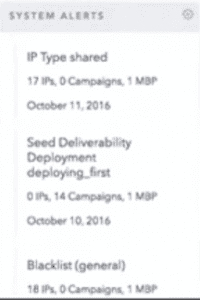 The Deliverability Wizard provides you with a quick, easy way to discover problems that your email program is having. You are also presented possible solutions to help you solve the problem. This allows you to spend less time trying to find the issue and gives you more time to focus on the bigger picture. The tool is able to learn and adapt to your program so as you use it more, you will get recommendations that are more tailored to your program. All of this can help improve your program, which in turn, will make you look like a rock star!
About Zach Sheehan
Zach Sheehan is a Product Manager at Return Path. His goal is to create great products that help customers innovate their email programs. Zach has worked on multiple product teams at Return Path and is excited to now be working on Certification. In his free time, Zach enjoys watching football and basketball with his dog Milo. Connect with Zach on LinkedIn.