In post one of a four part series dedicated to Inbox Insight, we discussed the best way to subject line test with Inbox Insight in the blog entitled, "Looking for Subject Lines that Out? Use Inbox Insight."
As a quick reminder, what is Inbox Insight?
Inbox Insight is Return Path's competitive intelligence tool that allows you to increase subscriber engagement through competitive insights while also having the visibility into engagement data from  real email users from Return Path's "Consumer Network."
The Consumer Network consists of over 2 million email subscribers who voluntarily agree to exchange their email data in return for access to our many applications. With the data we collect from the Consumer Network and the sending domain of any company, you are able to see how subscribers engage with different brands.
Inbox Insight is the perfect complement to your deliverability performance data. The additional Inbox Insight data provides a different perspective when thinking about specific email campaigns and marketing strategy decisions.
Day of the week
One element that marketers have struggled to identify is—which is the best day to send an email campaign? By using the trends tab in Inbox Insight along with the "day of the week" grouping view, you can analyize performance metrics and determine which day is the best for your brand.    
Before you can determine what is the best day of the week to send a specific type of campaign, first you have to complete a few steps:
Determine which mail stream you are going to track. (Welcome, Loyalty, Win-Back, Sale, Etc.)

Setup the appropriate Inbox Insight "tags" for that mailstream. 

Create your testing framework:

Timeframe –

"We will test for the entirety of Q3 – 2016."

Testing cadence –

"We will test a different sending day each month of the quarter."

Ex: Monday = July, Thursday = August, Friday = September.    

Definition of success –

"The sending day that generates a read rate increase of three percent or more will be the sending day that we will implement for a longer period of time."

  
Now that you have solidified your testing framework the next step will be to execute your sends based on the sending days you identified in your testing cadence. From here, you can track your results monthly after completing each individual "leg" of the test.
Tagging
Tagging is a functionality in Inbox Insight that allows you to group and mark a subset of emails to see how those specific campaigns are performing. There are two different ways for you to create a tag in Inbox Insight. The first option is a tag rule and the second option is a manual tag. The preferred method would be to create a tag rule because once you have established the criteria you would like the product to search for, Inbox Insight will then apply those tags automatically.


Once the tag is created in the system you will be able to see the tag in three different places in the product. The dashboard page, the campaigns page and the trends page.
Dashboard Page


Campaign Page


Trends Page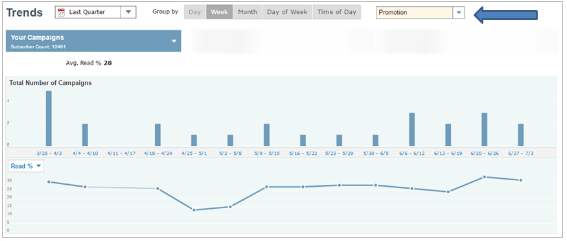 Analyzing Your Results
Now that you have determined the mailstream you are going to track and have set up the appropriate tags in Inbox Insight, you can analyze the results in the product while using your testing framework as a guide.
Last Quarter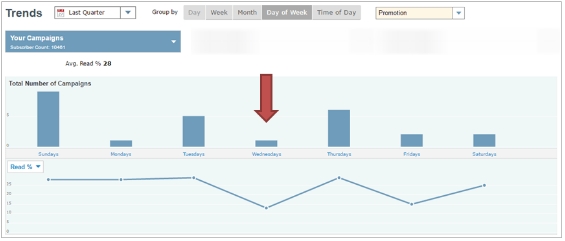 Using the "last quarter" as your selection in the timeframe dropdown,  you can see that "promotion" campaigns generated an average read rate of 28 percent. However, looking at Wednesday specifically, you can see that this was the day of the week with the lowest read rate.    
Quarter to Date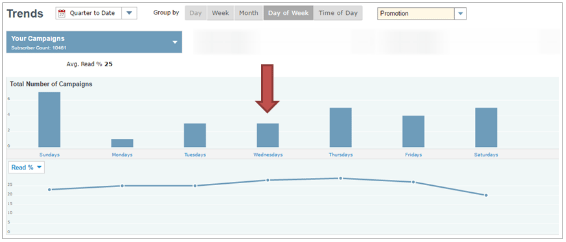 To compare the results from the previous quarter, you can change your selection in the timeframe dropdown to represent "quarter to date." Overall we can see the average read rate is 25 percent which is three points lower than the previous quarter (28 percent). Shifting back to the intention of the test, which is day of the week, we can now look to see if there is a difference in the read rate on Wednesdays for this quarter than there was for the previous quarter.  
With this information, you can now decide if your company would like to continue with this strategy on a more permanent basis or test for a longer period of time. No matter the final decision, you have actionable insight that will help you determine your sending cadence moving forward. Additionally, with the power of tagging you determine which day of the week cadence is appropriate for different mail streams.
Final thoughts
The key to using Inbox Insight is to have a good grasp of what your company is analyzing. Inbox insight provides large amounts of data that has to be organized to generate the meaningful insights that will help improve your email strategy execution. Always remember to spend time on your testing strategy, then let Inbox Insight tell you the rest.
About Martin Tatom
Martin Tatom is a Strategist on the Innovation Labs Team at Return Path. Martin spends his time understanding his client's business environment and strategy, to help them maximize the value of Return Path's newest products. Outside of work, you can either find Martin spending time with his family or on the golf course!